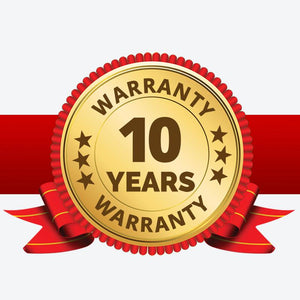 Protect Your Investment with Our Accident Protection Warranty
Your device was created using materials of the HIGHEST QUALITY and the most advanced technology that is ahead of its time. It is a product that retains its effectiveness for an indefinite time – barring physical damage.
While your device comes with a 3-year standard protection warranty, we understand that your device can last far longer than that and that you would want to protect your investment for a much longer time.
Because of this, we have decided to offer Standard Protection and Accident Protection for your devices for up to 10 years!
Accident Protection (10 years) includes:
Includes Standard Protection

Liquid damage from spills

Chewed or crimped cables

Broken crystal face

*Replacement Warranty
Insure more devices to get greater value for your money!
Enroll more of your devices into the Standard or Accident Protection warranty, and insure your investment for a longer time and a more comprehensive manner! 
*Replacement Warranty: If it cannot be repaired, we will replace your device with another one of equal or greater value.
*Exceptions: Amplifiers are not covered. Please refer to the warranty from the amplifiers' manufacturer. Theft, loss, negligence, cosmetic damage that does not effect use, regular wear and tear, acts of God, floods, and fires are also excluded from replacement.
Disclaimer: None of the products are intended as a diagnosis, treatment, cure, prevention of any disease and have not been evaluated by the FDA. You should never change or stop taking any medication unless you have discussed the situation with your medical practitioner. Please check our Disclaimer page click here.