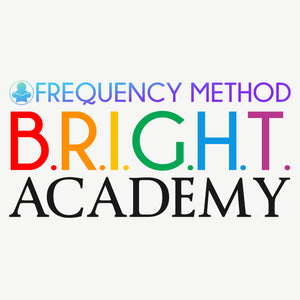 Unlock Your Child's Potential From Home
with our
Live Online Classes
Are you a parent who wants to see your child excel and reach new heights in their academic journey? Look no further than the B.R.I.G.H.T. Academy —a revolutionary online program led by B.R.I.G.H.T. certified and licensed instructors, designed to optimize your child's learning experience, boost their brain capacity, and unlock their true potential for success.
Elevate Your Child's Learning Experience
Discover an enriching educational journey designed to empower your child in three fundamental areas
Mastering Math with Ease: Empower your child with a newfound confidence and understanding of mathematics, turning complex concepts into manageable and enjoyable challenges.
Igniting a Love for Reading Comprehension: Ignite your child's passion for reading, fostering a deep connection with books and stories while honing critical thinking skills.
Nurturing Social-Emotional Learning: Beyond academics, this program nurtures vital life skills, focusing on emotional intelligence, self-awareness, and overall well-being for a balanced, fulfilling life journey.
3 Must-Have Frequencies of Your Child's Transformation
A tailored blend of three transformative frequencies designed to bring positivity and balance to families facing unique challenges like ADHD and autism.
Frequencies included:
Remove Negative Energy
Calm
Luck Boost

SOLVED: ADHD AND AUTISM
A comprehensive guide empowering parents of neurodiverse children. Unlock hidden strengths, bridge communication gaps, and nurture resilience. Join a supportive community and advocate for inclusive education.
Enrolling Your Child In Our Program
They will experience a wide range of benefits
Unlock their Full Potential: Our frequency-optimized curriculum is designed to unlock your child's innate abilities, helping them tap into their full potential and achieve outstanding results.
Improve Focus: Our program teaches techniques to calm the mind, remove distractions, and enhance concentration.
Overcome Learning Challenges: We provide targeted strategies to help your child overcome dyslexia, dysgraphia, and dyscalculia.
Simplify Math: Our program offers simplified approaches and effective problem-solving methods to make math easier to understand.
Boost Reading Comprehension: By implementing our program's skills, your child will see significant improvements in understanding and analyzing texts. 
Improve All Subjects: Our curriculum enhances overall academic performance by strengthening fundamental skills like problem-solving and critical thinking.
Develop Social-Emotional Skills: Our program goes beyond academics, fostering empathy, self-awareness, and healthy relationships.
Cultivate Positive Mindset: Through our program, your child develops a positive mindset, embracing challenges for growth.
Enhance Memory and Recall: Our program helps improve memory and the ability to retrieve information effectively. 
Develop Critical Thinking and Problem-Solving Skills: Our program nurtures critical thinking abilities, enabling your child to analyze information, evaluate evidence, and think logically. They will develop problem-solving skills, applying critical thinking to find creative solutions.
Accelerate Learning: Our program enables faster understanding of complex concepts and better retention.
Boost Confidence: As your child progresses, their confidence soars, enabling them to take on new challenges and succeed.
Enhance Critical Thinking: Our program focuses on developing analytical thinking and logical connections.
Join a Supportive Community: The B.R.I.G.H.T. academy Weekly provides a nurturing and supportive learning environment. Your child will have the opportunity to connect with like-minded individuals, share insights, and receive encouragement from our community of learners. 
Allow our B.R.I.G.H.T Learning Systems to ignite the torch of your child's true potential in learning
From arithmetic proficiency to cultivating personal growth skills and abilities, we're committed to guiding you, step by step, to reach your fullest potential.
IN B.R.I.G.H.T. TRAINING, STUDENTS WILL GAIN SKILLS TO
Use mathematics confidently.
Communicate and reason mathematically.
Become mathematically literate adults, using their skills to contribute to society.
Exhibit a positive attitude toward mathematics.
Increase personal levels of patience, efficiency and concentration.
Develop deep powers of observation.
Sharpen listening power.
Increase creativity.
Improve memory power.
Reduce carelessness.
Expand their faculties.
Increase a sense of cooperation, respect and empathy.
Boost confidence to overcome obstacles to mental development.
Help overcome a phobia of numbers.
Mastery of word problems.
Sign Up Today and Get These Bonuses Included FREE!
Templates: Gain access to a collection of templates specifically designed to streamline your lesson planning and instructional materials. These templates will save you time and effort, allowing you to focus more on delivering impactful lessons
Algorithms: Receive a comprehensive set of algorithms tailored to the B.R.I.G.H.T. Learning System. These algorithms will simplify math instruction, making it easier for you to teach addition, subtraction, multiplication, and division in a way that aligns with the left-to-right approach.
Community Support: Join an exclusive community of like-minded educators on the B.R.I.G.H.T. Learning System journey. Engage in discussions, share insights, and collaborate with fellow professionals dedicated to transforming education.
Recordings of Past Lessons: Access recorded sessions from the B.R.I.G.H.T. Learning System Training Program to review key concepts, reinforce understanding, and deepen knowledge at your own pace.
Here's an outline for the 9 Levels of Student Proficiency in the B.R.I.G.H.T. System
Level 1
Master addition algorithms while receiving specialized support for learning challenges like Dyslexia, Dysgraphia, Dyscalculia, ADHD, and more. Foundation for self-management in learning.
Level 2
Broaden mathematical skills with subtraction algorithms, strengthening structure, focus, and autonomy to overcome academic obstacles.
Level 3 and 4
Explore double-digit multiplication through our unique C.P.R. approach (Comprehension, Processing, Reflecting). Promote engagement and awareness of surroundings.
Level 5 and 6
Handle more extensive multiplication tasks, improving thought organization, focus, and task engagement
Level 7
Enhance multiplication skills to tackle larger numbers. Cultivate structured learning and heightened awareness
Level 8
Persist with complex multiplication exercises, strengthening comprehension and reflection abilities in a supportive environment
Level 9
The Ultimate Multiplication Challenge: Handle 9-digit by 9-digit multiplication, showcasing growth in self-management, structure, awareness, focus, and engagement.
More Reasons to Enroll!
Neuroscience at it's Best with Frequency Optimization
Our program focuses on frequency optimization, which involves consistent practice to reinforce knowledge and strengthen abilities. This approach improves memory retention, solidifies concepts, and accelerates learning progress.
Expert-Led Instruction
Our program is led by experts who provide high-quality instruction to ensure effective learning outcomes. They have the knowledge and experience to guide your child through the learning process.
Convenience and Flexibility
With our online classes, you have the convenience and flexibility to access the academy from anywhere. Your child can learn at their own pace and receive personalized attention, all from the comfort of their own home.
Personalized Learning
Our program is designed to cater to the individual needs of each child. By offering personalized attention and adapting to their unique learning style, we help maximize their learning potential.
Amazing Case Studies!
Transforming ADHD & Autistic Children into Geniuses in 4 months
The video showcases the remarkable progress of Frequency Method™ students labeled as low-performing or having disabilities. They solve advanced math problems typically reserved for higher grades, demonstrating exceptional concentration, understanding, and teaching abilities. These students surpass expectations, defy limitations, and unlock their true potential. Effective teaching methods and student-led instruction are highlighted as transformative.
How This Autistic 7 Year Old Girl Transformed in 4 Months
Witness the incredible transformation of children who were once unable to sit still for even a few seconds. These kids, diagnosed with ADHD and other labels, have defied expectations. Led by our Frequency Method™ team, they engage in a powerful practice of affirmations.
ADHD Solved from 9 Seconds Attention Span to 15 minutes
In this inspiring scene, Frequency Method™ students, previously labeled with ADHD and other challenges, defy expectations. Once unable to sit still for even a few seconds, they now engage in a remarkable transformation. Led by our Frequency Method™ team, they confidently navigate through the entire process, undeterred and focused. The room is filled with their collective determination, with no distractions in sight.
Our Proven Results!

Meet The Team
David Wong
Founder of Qi Life, Visionary Inventor, Frequency Expert
Jossie Gallizia
Director of Educational Services, Licensed Master Holistic Health Coach, Master Learning strategist, educator
Boris Kerjner
Qi Life Technology Consultant and Practitioner Instructor
Sade Gallizia
Licensed Special Educational Instructional Coach
Braxton Bush
Licensed Social Emotional Coordinator
Toyshiana Gaines
Licensed Math Teacher
Tayla Baah
Licensed Primary PK-2 Specialist
Jeane Burns
Licensed Special Education Teacher and Case Worker
Our Mission: Transforming Disability into Genius
Invest In Your Child's Future Today
Invest in your child's future today and choose the pricing plan that suits your budget and desired learning duration. The B.R.I.G.H.T. academy Weekly is an investment in your child's success that will yield lifelong benefits. Unlock your child's full potential today! Don't let their abilities go untapped. Take action now and enroll in our program to ensure they receive the best education possible. Limited spots available, so don't miss out! Invest in their future and provide them with the tools they need to succeed. Act now before it's too late. Your child's potential should never be held back!
Enroll Now
Disclaimer: None of the products are intended as a diagnosis, treatment, cure, prevention of any disease and have not been evaluated by the FDA. You should never change or stop taking any medication unless you have discussed the situation with your medical practitioner. Please check our Disclaimer page click here.