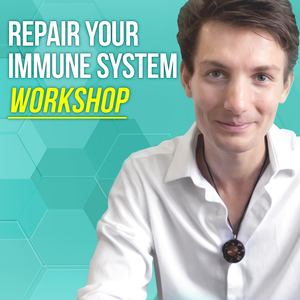 Are you worried about your health and well-being? Are you dealing with a life-threatening condition? 
Maximize your vitality and resilience with this essential detox and immune-boosting holistic mastery workshop…

Cleanse
Detox your body from potentially harmful substances.
Repair
Undo the internal damage you have suffered.
Recover
Restore your wellness and revitalize your mind, body, and energy.
In this Qi Life Workshop, you will learn...
✅

Complete Body-Mind-Energy Assessment

✅

4-D Quantum Health Process

✅

Upgrade the Immune System using Rife and Quantum frequencies

✅

Quantum Energy Healing and Activation Session

LEARN TO CREATE SYSTEM BALANCE AND HARMONIC RESONANCE ON ALL 4 LEVELS TO QUICKEN IMMUNE SYSTEM REGENERATION
Environmental Toxicity
In the form of damaging chemicals and frequencies entering the body through air, food, and water.
Mental Toxicity
In the form of Limiting Hypnotism.
Emotional Toxicity
In the form of Repressed Emotions.
Spiritual Toxicity
In the form of disconnection from nature, each other and our creator.
Meet Your Instructor
Boris Kerjner has been a multidisciplinary health practitioner for over 13 years.. ever since the life-changing awakening that followed the loss of his mom to  cancer when he was 18, his life has been dedicated to answering one question...
"What is that all-inclusive recipe that would allow us to tap into the highest human potential and wellbeing?"  
Boris' realized that the key to unlocking our highest potential and wellbeing wasn't some silver bullet, but rather a multidimensional synergy of factors which when skillfully brought together produce results that are far greater than anyone of them could effect on their own.
14 Years of Multidisciplinary Holistic Practice
Certified Wellness Counsellor 

Certified Holistic Nutritionist 

Certified Shiatsu Massage Therapist 

Certified Reiki Practitioner 

Quantum-Touch Certification 

Laughter Yoga Leader Certification 

Reconnective Healing Certification 

Registered Professional Counsellor  (Psychotherapy / Psychological Kinesiology) 

Neurofeedback Therapist

Resonant Wave Technology Practitioner and Trainer
Disclaimer: None of the products are intended as a diagnosis, treatment, cure, prevention of any disease and have not been evaluated by the FDA. You should never change or stop taking any medication unless you have discussed the situation with your medical practitioner. Please check our Disclaimer page click here.