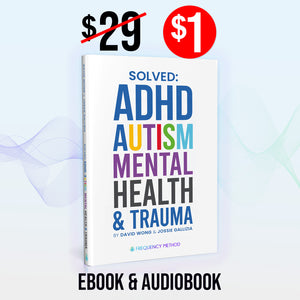 Introducing
"SOLVED: ADHD, Autism, Mental Health & Trauma"
Comprehensive Guide to Empowering Neurodiverse Children and Nurturing Their Unique Potential!
Are you a parent seeking guidance, support, and REAL transformative solutions to navigate the challenges of raising neurodiverse children? Look no further – "SOLVED: ADHD, Autism, Mental Health & Trauma" is your ultimate resource for embracing the journey and unlocking the extraordinary genius within your child.
Transform Your Parenting Journey
Parenting neurodiverse children comes with unique challenges that can often feel overwhelming. From communication barriers to addressing daily struggles, the path can be uncertain. But there's hope. "SOLVED: ADHD AND AUTISM" is here to empower you with knowledge, strategies, and a revolutionary approach that transforms disability into genius.
Benefits of "SOLVED: ADHD, Autism, Mental Health & Trauma":
Gain a deep understanding of neurodiversity, shifting from challenges to strengths. Discover the innovative Frequency Method to bridge communication gaps effectively.
Implement practical strategies for fostering communication, resilience, and well-being.
Empower your child through tailored learning, unleashing their hidden genius.
Access a step-by-step roadmap to navigate daily challenges with confidence.
Connect with a supportive community of parents embracing the same journey.
Become a strong advocate for inclusive education and positive change.
Empower Your Child's Unique Potential
Imagine witnessing your child's remarkable strengths flourish. Visualize a communication breakthrough that deepens your connection. Envision a future where your child's resilience and well-being thrive. "SOLVED: ADHD, Autism, Mental Health & Trauma" is your guide to making these aspirations a reality.
Connect with a Supportive Community
You're never alone in this journey. Join a community of parents who share similar experiences, exchange advice, and celebrate milestones together. "SOLVED: ADHD, Autism, Mental Health & Trauma" provides a platform for you to connect, learn, and support one another.
Advocate for Inclusive Education and Positive Change
Your voice matters. "SOLVED: ADHD, Autism, Mental Health & Trauma" empowers you to advocate for inclusive education, challenge stereotypes, and inspire positive change in your child's life and the lives of others.
What Others Are Saying
"Finding 'SOLVED: ADHD, Autism, Mental Health & Trauma' was a game-changer for our family. As a parent of a neurodiverse child, I had struggled with understanding and supporting my child's unique needs. This ebook not only provided practical strategies for overcoming challenges but also taught me to celebrate my child's strengths. The Frequency Method opened up a whole new level of communication, deepening our connection. Thanks to this ebook, I've become a more empowered advocate and my child is thriving like never before."
- Matt S.
"As an educator, 'SOLVED: ADHD, Autism, Mental Health & Trauma' has been an invaluable resource in my work with neurodiverse students. The insights and techniques provided have transformed the way I approach teaching. I've learned to tailor my methods to each student's strengths, creating a more inclusive and effective learning environment. The ebook's emphasis on fostering resilience and well-being has had a positive impact on both my students and myself. I highly recommend this ebook to fellow educators and parents."
- Stephie K.
"Reading 'SOLVED: ADHD, Autism, Mental Health & Trauma' felt like finding a guiding light in a maze of uncertainty. This ebook not only provided practical strategies for fostering my child's strengths but also connected me with a supportive community of parents who truly understand the journey. Through the Bright Academy, I gained access to expert-led workshops and resources that have empowered me to transform my child's journey. Thank you for giving me hope and the tools I needed."
- Emily A.
This isn't just an ebook; it's your roadmap to nurturing brilliance
Empowerment Journey: Overcome struggles, transform challenges into opportunities for brilliance, and discover practical strategies for your child's growth.
Awakening Brilliance: Shift focus from struggles to strengths. Gain insights and techniques to nurture creativity, attention to detail, and unique thinking.
The Frequency Method: Bridge communication gaps with the groundbreaking Frequency Method, fostering a stronger parent-child connection.
Resilience and Well-Being: Nurture emotional growth, positivity, and resilience in both you and your child.
Personalized Learning: Tailor learning experiences to amplify your child's brilliance, setting the stage for future accomplishments.
Supportive Community: Connect with understanding parents. Exchange advice, victories, and setbacks within a nurturing network.
Positive Transformation: Advocate for inclusive education and positive change, shaping a world that celebrates neurodiversity.
Empowerment through Bright Academy: Access expert-led workshops, valuable resources, and a supportive community to empower your transformative journey.


Unleash boundless potential with "SOLVED: ADHD, Autism, Mental Health & Trauma"
It's more than an ebook; it's your partner in shaping a future full of opportunities.
Order your copy today and redefine your child's life forever.
Get Your Copy Now