Detoxing and losing weight are two of the main reasons people visit spas. However, not everyone has the time or money to go to a spa on a regular basis. We provide infrared sauna blankets that will give you similar benefits to those of a spa without having to visit these places. 

Our blankets use
 far-infrared radiation, which is beneficial for detoxing and weight loss. The blankets are
 made of high-quality materials and are easy to use, so you can get the most out of them in the comfort of your own home.
What are the benefits of Infrared Sauna Blankets?
Detox the body: Sweat induction pushes the body to release built-up toxins, carbs, salt, and fat.
Burning Calories: More quickly to sweat for weight loss. 
Boosts Immunity: Raise core body temperature activating and strengthening the immune system.
Reduces Stress: Raising serotonin levels (the happy feels!) and decreasing cortisol levels (the sad feels) can be a great side effect of sauna use.
Increases Metabolism: Your metabolism may burn up to 600 calories per hour without working out.
Anti-aging: Collagen is boosted enhancing your skin's natural glow.
Improves sleep: Assists your body's natural ability to wind down and rest.
Rejuvenates skin: Improved circulation combined with cleansing pores may help rejuvenate skin. 
How to use the infrared sauna blanket?
Lay the blanket down on a heatproof surface (like a bed).

Drinking some water before use.

Dress loose, long clothing and socks for unrestricted sweating

Spend up to 25 to 45 minutes a day to build your S-shape.

Get into the blanket and relax. Let the soothing infrared rays do the work.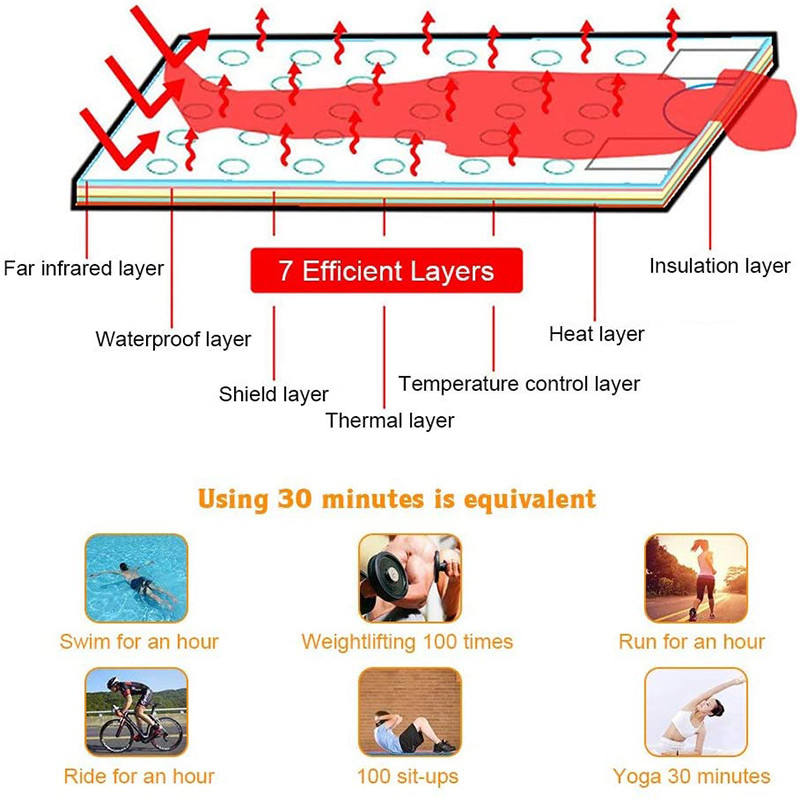 Why choose our Infrared Sauna Blanket?
High-Quality Material: Durable nylon fabric, that is beautiful and easy to clean. Suitable for beauty salons, homes, hotels, etc.
Side Zipper Design:

 

High-quality zipper that is easy to open and close.
Anti-Leakage Device:

 

Insulated interfaces and wires with built-in double-layer anti-leakage device for safe use.
Temperature Control Protector:

 

The smart version host comes with a constant temperature system to escort your safety.
Quality Home Sauna:

 

This sauna blanket can satisfy everything you need for a sauna at home, can provide long-term service at home.
More health benefits:

 

From detoxifying the body, burning calories, rejuvenating your skin, strengthening your immune system, protecting your health, and more.
What's in the Box?
1 x Sauna Blanket
1 x Manual
1 x Remote
1 x Cord 
2 parts Far Infrared Sauna Blanket Instrument
Specifications
Color: Purple
Weight: 5kg
Material: 

Oxford Cloth

Waterproof: Yes

Power Supply Mode: Plug-in
Safety Tips
Can be worn thin cotton pajamas or bathroom bags to collect sweat, can also use bath towels, clean up with wet cloth twisted dry wipe.

To avoid the blankets from sticking together, you have to smooth out the blanket when it is heating,

 

do not fold the blanket before it is cool

.

Do not set the temperature too high or turn it on for a long time

Do not use on a mattress
Do not fold while hot
Frequently asked questions
Does this completely unzip on 3 sides or just partially?

+
Yes, it has a zipper all the way around and it can be taken apart.
Where does the fuse go?

+
It's provided in the package.
Does the infrared light make contact with your skin while using the blanket?

+
There are no lights, the heating elements are contained within the material of the blanket. It is recommended to put a thin layer of clothing between your skin and the blanket.
How do you open up the remote control unit to insert the two fuses?

+
No need to open the remote control unit to insert the 2 fuses. You simply have to line them up correctly then push them in.
Add to Cart Now