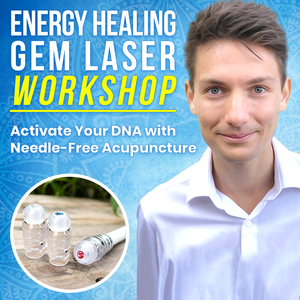 Learn Energy Healing With Gem Lasers For DNA Activation, Longevity, Anti-Aging and Brain Health
In this Hands-On Workshop you will learn:
How to apply the unique power of Gem Lasers and tachyon energy to create holistic health and wellbeing


The foundations of how to positively influence your body's energy system through acupressure and Gem Laser Acupuncture (without needles)


A fast-acting, powerful technique to awaken and energize the brain for peak performance, memory, and learning-retention


A complete and guided "Radiant Mind" activation sequence to support holistic healing, brain longevity, and peak mental performance


WORKSHOP OUTLINE

: 
I. What is Gem-Laser Acupuncture?
Acupuncture & Acupressure

Qi energy flow through Meridians 
Stagnation vs. Depletion
Harmony vs Disharmony

Laser Light and Gems

Science and validation of laser acupuncture
Fiber-optic-like conductivity of meridians
Tachyon energy
Overview of the Gems and Colors

Laser Light Selection

Wavelength Selection
Gem Selection
Acupunture Points Selection

II. Brain Longevity and Performance
| | |
| --- | --- |
| Criteria for above |   |
| How we can create the conditions to meet that criteria using the activation sequence they are about to learn |   |

III. Ageless Brain
| | |
| --- | --- |
| Radiant Mind Activation Sequence (10-15 minutes) |   |
| Teach and demonstrate the sequence and have them follow along |   |

Meet Your Instructor
Boris Kerjner has been a multidisciplinary health practitioner for over 13 years.. ever since the life-changing awakening that followed the loss of his mom to  cancer when he was 18, his life has been dedicated to answering one question...
"What is that all-inclusive recipe that would allow us to tap into the highest human potential and wellbeing?"  
Boris' realized that the key to unlocking our highest potential and wellbeing wasn't some silver bullet, but rather a multidimensional synergy of factors which when skillfully brought together produce results that are far greater than anyone of them could effect on their own.
13 Years of Multi-Disciplinary Holistic Practice
Certified Wellness Counsellor 

Certified Holistic Nutritionist 

Certified Shiatsu Massage Therapist 

Certified Reiki Practitioner 

Quantum-Touch Certification 

Laughter Yoga Leader Certification 

Reconnective Healing Certification 

Registered Professional Counsellor  (Psychotherapy / Psychological Kinesiology) 

Neurofeedback Therapist

Resonant Wave Technology Practitioner and Trainer
LIMITED SLOTS ONLY: 

ENROLL NOW before Slots Runs Out!